---
LAWYERS, SHEEP, AND MONEY
Mugu letters in ITALICS, running commentary in

RED





I SENT THE FOLLOWING ASEM.


10/1/04
Dear Reverend Dildo Jones,

We received notification from Western Union that you have received to initial 1000.00. I hope this has helped with the crisis. I must be honest with you, Rev. Dildo, I was forced to endure a painful penance for sending you the money without the proper documentation but, when you mentioned it was for the children, I could not resist. Don't concern yourself, though, I am feeling much better now and my nads should be completely healed in no time. I pray the funds helped you to repair the damage to your church.
As I stated in my earlier letters, we have allocated an additional 3,500.00 for your church. Once you send us the Missionary Acceptance Form and the required proof of initiation rites, we can send the additional money.
I apologize for the late reply, in addition to the penance, we have also had 3 hurricanes pass over our area in the last month. Our church, praise God, was not damaged but we have been quite busy with local spiritual work. I hope you contact us soon so we can complete or holy work.


Bless You,

Father Pat Mybalsak

Holy Church of God's Sacred Beasts


To : Pat Mybalsak
From: Reverend Dildo Jones:
Date: 10/3/04
My dear Rev. Father Pat,

Calvary Greetings in the mighty name of our Lord Jesus Christ. I am quite thankful to God today that I am still alive today to give thanks to him. How are you, how is the work of God going?

I had some serious and pressing problems brother, I need your prayers and everything humanly possible for relieve, God will continue to bless you for me.

Regarding the donation, the Board Council will contact you very soon so that everything is smoothened out in Jesus name.

Yours

Rev. Jones



I DID NOT RESPOND FOR TWO DAYS, THEN I GOT THIS. I WAS CURIOUS TO SEE HOW HE WOULD APPROACH THE 3500.00.



To: Pat Mybalsak
From: Reverend Dildo Jones
Date: 10/5/04
Dear Father Pat Mybalsak,
How are you doing together with your congregation?hope all is well.
After several engagement with some brotherhood,we could thank God for his marvelous work.
I instructed my Lawyer to get through with Documents which he has been in progress with the Authorities in charge, but the only solution required to facilitate the release of the documents from Federal High Court is $2,260 to be balanced and we get the relevant Documents release immediately.
Furthermore,i misplace your contact information which i will need urgently for easy communication.
Kindly send the money immediately for the completion of the Documents through Western Union money with the name of our senior Pastor.

NAME: Peter Nwafor.
Lagos-Nigeria.

Text Question: DONATION.
Answer : CHURCH.
Send the money immediately and send me the payment information for quick collection.
Thanks and remain bless.
Rev Dildo.



I DECIDED TO HELP HIM WITH A REMINDER


To: Reverend Jones
From: Pat Mybalsak
Date: 10/5/04
Reverend Jones,

I am a bit confused by your last letter. I realize you are busy with the repairs to your church and the work with the orphans. I'm sure you have a flood of emails daily from other churches. Allow me to refresh your memory...
Sept 10 - You emailed our church and asked if we could donate to your christian orphanage.

Sept 13 - I responded the church could allocate $4500.00 but we can only offer charitable help to churches affiliated with our own.

Sept 14 - You agreed to join our church and we sent the instructions you needed to follow for admittance.

Sept 15 - You said a disaster occurred and, more or less, begged us to send you the donation before you gained admittance to the church.

Sept 15 - I responded it was against the church bylaws to release the funds but, as a christian, I could not ignore the plight of the orphans. I sinned against my church by sending you $1000.00 via Western Union. You agreed to complete the steps necessary for admittance as soon as possible.

Sept 16 - The church elders discovered my violation of church laws and I had to perform 10 days of penance for my sin.

Oct 1 - I sent a letter to you asking you to complete the steps necessary to gain affiliation with our church so that we could send the remaining 3500.00.


Have you lost or misplaced the information, Reverend Jones? I truly hope and pray you haven't changed your mind about joining our church. If that is the case, Brother, kindly let me know so that we can disperse the remaining funds to our other member churches. I will keep you and your orphans in our thoughts and prayers.


Father Pat Mybalsak

Holy Church of God's Sacred Beasts


NATURALLY, HE HAS LOST THE INSTRUCTIONS


To: Pat Mybalsak
From: Reverend Dildo Jones
Date: 10/6/04
Dear Father Pat Mybalsak,
Thanks for your prompt respond.
However we are happy to hear that the elder insist on us to perform the initiation rites.
I request that you should resend the instructions for initiation immediately to enable us perform it and the fund for the said purpose.
Thanks .
Reverend Dildo
To: Pat Mybalsak
From: Reverend Dildo Jones
Date: 10/8/04
Father,

I am waiting on to re-send the instructions/guide like I said. What is happening, I am waiting.

Again, please do send the help so that it will ease off some pressure of help I have to do to these orphans and oversee some other things in my church.

Please my brother I solely depend on you now for the help, please me Father before things go worse for me.

I am interested also to join your church, please let me have them again.

God bless you for me.

Rev. Jones.


To: Reverend Dildo Jones
From: Pat Mybalsak
Date: 10/11/04
Please forgive the lateness of my reply. I was called away to the funeral of my mother. I am going to send you a copy of the original letter regarding the initiation ceremony. Please contact me with any questions. We still have the remaining funds. I begged father Kuntz to hold them until I returned from the funeral.
Yours,

Father Pat Mybalsak

Holy Church of God's Sacred Beasts

Brother Dildo,

The members of our church are overjoyed at your desire to assume a missionary position for us. We rejoice in knowing more people will be practicing Beastiality because of your deeds. The process of joining our church is a simple one. It is a ritual that has been passed down from generation to generation. The founder of our church, Beastmaster Ned Beatty, first performed this ritual during his deliverance and the ritual has evolved into what we do today. I've enclosed a photo of some of our children practicing for their initiation - don't they look adorable, Dildo? The initiation into our church consists of 3 steps that must me completed in order. Because of your remote location, none of our members will be able to be present for the rites – the church elders will, however, accept photographic proof of the ritual.

STEP ONE -- PAYING HOMAGE TO THE BEASTS
1) Construct a mask of the animal you most admire (see the enclosed photo of the children for an example). While wearing the mask, recite the following prayer:
"KARMA KARMA KARMA KARMA KARMA Chameleon
You come and go, You come and go
Loving would be easy if your colors
Were like my dreams
Red, Gold, and Green
Red, Gold, and Green"
YOU MUST SEND A PHOTO OF YOU WITH THE MASK ON
2) Construct a sign that reads "I PRACTICE BEASTIALTY" Hold that sign and recite this prayer:
" Dear Lord,
I've got your green alligators, your long-necked geese
Some humpty backed camels, and some Chimpanzees
Some cats, some rats, some elephants
But as sure as you're born
I just can't find a Unicorn"
YOU MUST SEND A PHOTO OF YOU HOLDING THE SIGN


Brother Jones, once we receive the required photos, I will send the instructions for STEP 2. It involves a series of questions to prove your commitment to Beastiality. Once we receive the completed form, we can go on to STEP 3.


I apologize for not being able to fly to your country and guide you through the initiation rites but, as I'm sure you've heard, the coast of our country has been ravaged by three hurricanes and I am needed for spiritual help there. Again, Brother John, thank you for undertaking our holy quest.
I have also enclosed a picture myself with two other members of the clergy. Sister Clamidia is on the left, Father Kuntz is in the middle and I am on the right.


Father Pat Mybalsak

Holy Church of God's Sacred Beasts

PS Do you or the children need any other items, our church frequently gets donations of clothing, books, bedding, and such. Other than having spunk stains, the bedding is in tip top shape.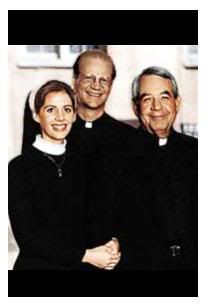 To: Pat Mybalsak
From: Reverend Dildo Jones
Date: 10/11/04
Rev. Pat.

I am glad to hear from you. I am sorry to hear you lost your mother. I pray the good Lord grant your mother everlasting peace in His bossom.

Rev. I beg you in the name of the Lord, my Church is in a serious mess right now and talk about the orphans, i hardly have sleep at night, please help me with the $3,500 dollars to help me take care of these hypertensive pressure I am undergoing right now, please reverend, i beg you in the name of our Lord Jesus - Amen.

I am also expecting the original copy of the Initiation letter from you, so that I can start off immediately. God bless and keep you.

Rev. Jones



HE DOES NOT RESPOND FOR A COUPLE DAYS, I SEND A REMINDER


To: Reverend Dildo Jones
From: Pat Mybalsak
Date: 10/14/04

Dear Reverend Dildo Jones,

The topic of your remaining $3500.00 donation was raised at the church council meeting last night. The church elders are extremely disappointed in your lack of a timely response to our simple request of 2 photos to show you are serious about joining our beloved church. I now understand why they punished me for sending the first $1000.00 without proper documentation. They have made the following decree. If you are unable to provide the ceremonial photos today, they have asked me to Western Union the money to our new brothers in Burkina Faso who went through their ceremony yesterday and sent the required photos this morning. I wish you the best of luck, Dildo. I hope the initial donation was put to good use. Perhaps, in the future, you can contact us again when you are in a better position to undergo our church initiation. I will pray for the welfare of the orphans in your care.

Good Luck,

Father Pat Mybalsak

Holy Church of God's Sacred Beasts




HE WHINES


To: Pat Mybalsak
From: Reverend Dildo Jones
Date: 10/14/04
Dearest Father Pat,

It's not as you think. Here in my home country, things are very difficult. Like we have been on national strike since and a lot of things have been paralyzed, business paralysed, nothing works coupled with my own problem that I am shouldering, all these constitute to why I sometimes respond a bit late.

Be that as it may, it is not to say you should divert the help I want you to help to somewhere else. Of course I just got the message and the instructions today and immediately I am swinging into action to make sure I perform the rites. Here we are in a third world country and things don't just go very smoothly and easy. Please just bear with me while I try to get things ready.

I appreciate your praying for me and my orphans. Again I want you to please help send down the donation to me now so that it can help take some problems off my shoulders, problems that constitute to my late response to your mails. Please I will really appreciate it if I can get the donation by tomorrow or next. Already I have done the recitation and the photographer says the pics. will be ready very soon.

That is the position of things. I am very much with you. Thanks a lot for your concern.

Yours ever,

Rev. Jones

To: Pat Mybalsak
From: Reverend Dildo Jones
Date: 10/17/04
Dearest Father,

Haven't heard from you, hope there is no problem. Hope you are fine, and everything is fine? I am sure you will want to know the progress I have made so far.
I have done everything, the photographer has promised that I will definitely get the photo by next week. So for sure I will send the photo to you by next week.
Please underlisted are the informations you will use to send the Money through the Western Union:

Please send it through this my Secretary:

JUSTINE UKPONG
PASSPORT NO: A0571891
Destination: Nigeria
Text Question: What is your favourite food? EBA/EGUSI SOUP

Please send WESTERN UNION CODE NUMBER to my Email box:

Please brother Pat, I count on you.

Thanks and Bless you and the Brethren.

Yours

Rev. Jones






STILL NO PHOTOS, A PLAN DEVELOPS


To: Reverend Dildo Jones
From: Pat Mybalsak
Date:10/17/04
Rev Jones,
I must hurry, I will explain later. I will send the money with 30 minutes of getting the photo


NO PHOTOS, I INTRODUCE PASTOR HARRY KUNTZ


To: Reverend Dildo Jones
From: Harry Kuntz
Date: 10/17/04

Reverend Jones,

My name is Father Harry Kuntz, I am the pastor of The Holy Church of God's Sacred Beasts. I got your email address from Father Mybalsak's PC. We have a serious problem, I'm hoping you can help us. On Sept 13th, our church allocated a $4500.00 donation to your church with the understanding you would join our faith. We sent instructions on how to complete the ritual. On Sept 15th, Father Mybalsak broke the rules of the church by sending $1000.00 via western union to you without having the required initiation photos and documents. Father Mybalsak was severely punished for this. We still had a $3500.00 donation for you, we were waiting for you to send the required documents. On Oct 13, we instructed Father Mybalsak to either a) get the required documents from you and send the $3500.00, or b) send the $3500.00 to our new member church in Burkina Faso since they had provided the required documents. This evening I came into the church offices and discovered Father Mybalsak has disappeared with the $3500.00. I contacted out new brother in Burkina Faso, he says he did not receive the money. Even though, in my opinion, you have done NOTHING to prove your intentions to join our church, Father Mybalsak believes in you. I need to know if Father Mybalsak has sent the money to you. If he has, I intend to have him thrown out of the church for a severe violation of our policies. If he has not, I intend to have him arrested and charged with theft.

Father Harry Kuntz

The Holy Church of God's Sacred Beasts
To: Harry Kuntz
From: Reverend Dildo Jones
Date: 10/18/04
Father Harry,

Nice to hear from you, I have actually been sending goodwill messages through Father Pat to.

Well, going by your explanations, I have not received any $3,500 from Father, I was even telling him that I have done the initiation rites and very well on the right course to joining your Church, but that because of my very pressing problems/projects I have at hand, that I needed immediate help of the $3,500 to help me cushion this problem, and that is what I was waiting on him for.

Please since you have come on board, please I seriously need the help immediately, I have done initiation and have started recitation, only the photoman says it will ready sometime this week, and as soon as the photo is ready I will send to you, that is no problem. Please just help me.

Yours

Jones,


THANKS TO EATYO URGREENS FOR THIS FINE ARTICE


To: Reverend Dildo Jones
From: Harry Kuntz
Date: 10/20/04
Reverend Jones,

As you can see from the attached newspaper article, Father Mybalsak was arrested last night and charged with grand theft. He will probably have to spend 3 years in prison. As for you, Reverend Jones, Until you provide me with the TWO photos required for admission to our church, I do not want to discuss your donation. As you recall, One photo should show you holding up a mask of the animal you most admire, the second picture should show you holding a sign the reads "I PRACTICE BEASTIALITY". This entire affair with Father Mybalsak has left me very upset and could have been avoided had you not lost the original instructions and had you gotten the required photos to us in a timely fashion. I understand you have a strike going on in your country but that did not prevent Reverend Felcher in our new church in Burkina Faso from providing the photos and documents within 3 days of the day we asked for them. His church has already received 2 donations of 2500.00 from our fund and I instructed Father Mybalsak to send your 3500.00 to them but he, for whatever reason, refused. I intend to do nothing for you until we have our initiation photos.

Regards,

Father Harry Kuntz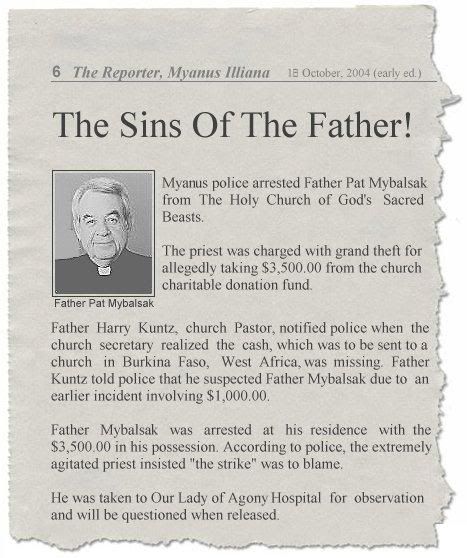 To: Harry Kuntz
From: Reverend Dildo Jones
Date: 10/21/04

Father,

At least you can testify to the fact I have not receive any money from Father Mybalsak, as your Newspaper has rightly stated he was arrested with the $3,500.

Father Kuntz, I will only beg on his behalf that you should tamper justice with mercy and forgive him. It is said to err is human and to forgive is divine, please do forgive him.

Furthermore, like I told you earlier, there is no problem about that, all I need from you is your immediate help. I have done everything and hopefully, this week you will have the picture. But please father I need help now, we are one family already, I do not see why you should not help at the time when I need it.

Please do help me Father.

Stay blessed.

Yours

Rev. Jones

To: Reverend Dildo Jones
From: Harry Kuntz
Date: 10/22/04

I'm sure Father Mybalsak would be touched by your concern, especially since your inactivity is to blame for his plight. As I stated earlier to you, I have absolutely no intention of sending a dime to you until you are officially documented in our records as a missionary church. What I can't understand is this - Since our original contact with you in September, we have added 3 other foreign churches to our missionary list. One in Burkina Faso, one in Cote D'ivore, one in India. All three of these churches sent the required documents and photos with seemingly no problem at all. These three churches seem to be thriving and spreading the word of Beastiality. Our involvement with you has not benefited us in any way, we gave you an unauthorized 1000.00, a priest who has been with our church for 20 years is in jail, and we still have nothing from you that proves your completion of our church ritual. Father Mybalsak will probably be in jail for several years, I'm sure he will wonder every day why he chose to believe you rather than follow our church rules. You have begged me, now I'm begging you, please do not ask me for the money until you have the photos. You are dishonoring Father Mybalsak when you keep asking


To: Harry kuntz
From: Reverend Dildo Jones
Date: 10/23/04

Father Kuntz,

If you know the plans and visions I have down for choosing to be a missionary to your Church, am sure you will not be talking the way you are talking. Well, I will not want to talk much, I will wait till the pics is ready and I send to you then I will tell you my plans and visions for your church here in my country.

I would still advise that you forgive Father Mybalsak as no one is above mistake. Try and forgive him, please. Thank you.

Till then, bye bye

Rev. Jones


THANKS TO URANGATAN FOR THIS ARTICLE



To: Reverend Dildo Jones
From: Harry Kuntz
Date: 10/24/04
Jones,
I thought you'd enjoy seeing the trouble your lack of effort has caused. As I guessed, you never had any intention of joining our church, did you, MR Jones. I will no longer call you reverend since I don't believe you are one.

Pastor Harry Kuntz

The Holy Church of God's Sacred Beasts




To: Harry Kuntz
From: Reverend Dildo Jones
Date: 10/25/04
Father Kuntz,

My observation about you is that you are not friendly. At least you are not friendly like Father Pat Mybalsak.

I virtually was on my knees begging you for this help to enable me get out of a very pressing and disturbing problems. But you said you couldn't because I had not sent the pics. Of-course I had to travel and look for ways I could take off a very big burden.

If I was not interested in joining your Church, I should have told you so since from the very first day. But I said I have done everything only for the photographer to tell me when I will get the pics. I travelled, I have just arrived this evening from my country home.

The plans I have for your Church is also what I had to go and find out in my country home and of-course it is going to be successful. I have plans of possibly erecting the branch of your Church in my Country Home I had to go and make the findings and research for the land and so far I am satisfied with what I have seen. Though I had not told you this, but I am planning that your church should have a branch in my country home.

Talking about the pics, I have just arrived this evening and will check on the photographer first thing tomorrow morning, whatever the case may be you should have the pics. latest Tuesday. But please as soon as you receive it, try and send down the help immediately for me to help me solve some problems.

And you said you can't call me Reverend, that I don't deserve to be called one. Well, this leads me to my submission that you arrive at conclusions too early. And who am I to stop you from having your own opinion.

Anyhow, that's the situation right now.

Regards.

Rev. Jones.

To: Harry Kuntz
From: Reverend Dildo Jones
Date:10/26/04
Pastor Kuntz,

Are you there, the pics are ready now, but I need to hear from you before I send them, I just want to say that as soon as you receive it that you please send down the help to me immediately, as I am in serious problems right now.

I remain

Rev. Jones
To: Reverend Dildo Jones
From: Harry Kuntz
Date: 10/27/04
Reverend Jones,

I am overjoyed to hear that you have completed the ritual. I had one of our altar boys change the sign by our church so the whole community will know we have a new member. I'm afraid it is raining here so the picture is not as clear as it could be. We promised the remaining 3500.00 to you when you officially became a member of the church. Hopefully, this can lead to a long term relationship. Looking forward to the pictures and welcome to our church

Pastor Harry Kuntz

The Holy Church of God's Sacred Beasts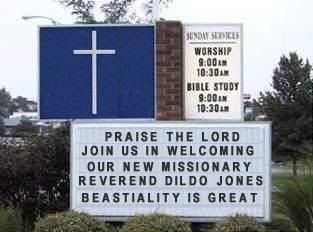 To: Harry Kuntz
From: Reverend Dildo Jones
Date: 10/28/04
Father Kuntz,
Happy to hear some kind words from you. I hope everything is ok. With you now.
Like I told you earlier, I have big plans as a Missionary of your church which shall be good to see us working together harmoniously and look forward to carrying out this plans together with you.

How is Pat Mybalsak doing? Please extend my warm greetings to him.

I had sent the way I want the money to be sent to me before to Father Pat Mybalsak. However, please send it as below through my Secretary:

JUSTINE UKPONG
PASSPORT NO: A0571891
Destination: Nigeria
Text Question: What is your favourite food? EBA / EGUSI SOUP

Please send WESTERN UNION CONTROL NUMBER to my Email box:

Remain blessed

Yours ever,

Rev. Jones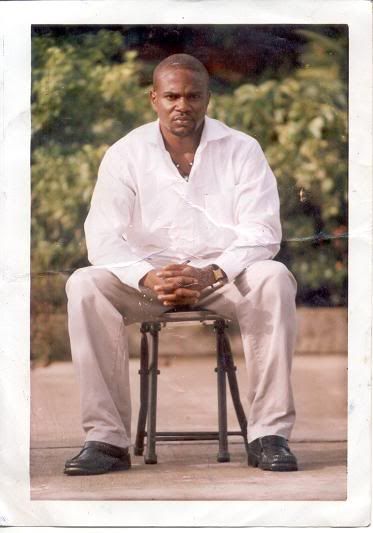 I EXPRESS MY DISPLEASURE OVER THE PHOTOS




To: Reverend Dildo Jones
From: Harry Kuntz
Date: 10/28/04

Jones,
HOW DARE YOU DEFILE OUR CHURCH BY SENDING FAKE PHOTOS. Do you think I'm foolish? Explain yourself. The first photo is so fake a child could spot it. The second photo is cut out of a magazine. I am enclosing a REAL photo so you can tell the diffirence. If you want the charity money, and you want to have future funds to build a new church, you will send real photos. And don't you dare try to use any portion of Brother Asswad's photo. As you can see, he is a sincere man who took time to make a proper sign. I am tired of your nonsense.

Pastor Harry Kuntz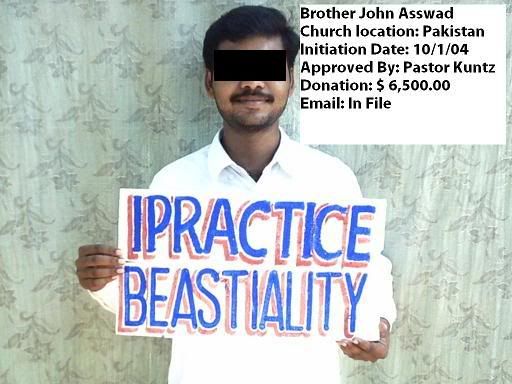 To: Harry Kuntz
From: Reverend Dildo Jones
Date: 10/29/04
Father Kuntz,

I wonder what you call fake about myself. I took a lot of trouble getting those pics you call fake. I have never cut anything from any body from any magazine, if you want I can send the whole full size so that you can see. Those are my personal pics.that I had to travel very far to take the pics with Sheep as you saw there.

Don't smear my image again Father I am a honest person.

Please help me quick,if you like.

Rev. Jones
_____________________________________________________________________________

To: Reverend Dildo Jones
From: Harry Kuntz
Date: 10/29/04

This will be my last email to you, Reverend Jones. The head of our church, Beastmaster Ned Beatty has advised me to allow you one last opportunity to submit the initiation pictures as directed in our initiation rituals. If you want to take advantage of this opportunity, let me know today. If I do not hear from you, I will assume you do not wish to join us and I will advise Beastmaster Ned of such and transfer your funds to our newest church


To: Harry Kuntz
From: Reverend Dildo Jones
Date: 10/30/04
Father Harry,

Well, I want to say I have forgiven you. And like I said before if I was not interested in joining hands with you to achieve a common goal, I would have said so right from day one.

I am ever willing to be in partnership with you with regards to your church.

However, I am sending the pics below.

My regards to everyone and the Master.

Yours

Rev. Jones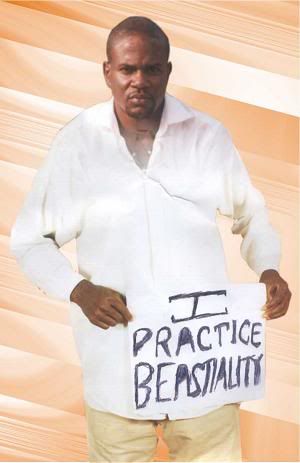 I KNOW THE PICTURE IS A FAKE BUT I'M TIRED OF THIS ASSHOLE SO I LET IT SLIDE


To: Reverend Dildo Jones
From: Harry Kuntz
Date: 10/31/04
Brother Dildo,

Let me welcome you to the church. I must apologize, I guess Father Mybalsak's faith in you was not without merit. Regarding the 3500.00 - we have an interesting dilemma. The money is being held as evidence by the Myanus sheriffs department. It must be held there until the end of the trial unless the owner of the money either a) signs an evidence release voucher, or b) drops the charges against Father Mybalsak. Since you are now a member of the church, the money belongs to you. I asked Sheriff Lobo to give a copy of the release voucher to send to you but he says it must be signed in person by the owner or the owners legal representative. He says in order to drop the charges against Father Mybalsak, you would have to appear in court. I will leave the decision up to you. If you want to wait till the trial is over, that is fine with me, I anticipate it will be over in 5-6 months and I will certainly keep you informed of the progress. If you want to get the money released early by legal representative, I can give you the name of a couple of fine lawyers who happen to be members of or church. I'm sure they can help you.

Yours,

Pastor Harry Kuntz

Holy Church of God's Sacred Beasts

To: Harry Kuntz
From: Reverend Dildo Jones
Date: 11/01/04

Father Kuntz

I have fulfilled my side bargain. Please we are in need. Send the 3500.00 as promised I will then hire the lawyer to release the funds What we were supposed to be doing together was that, you do me a favour, and I do the same favour by helping here to progragate the message of your church and vice-versa. My project of shouldering the responsibility of giving hope to the unfortunate, less-privileged and potentially talented young stars should even have been seen by you as a noble course and also a veritable ground of harvest for your project, but you have rather chosen to toe the wrong path.

I believe this is okay to solve whatever is the misunderstanding. I have to dash home now to take some rest from a very tiring journey.

I remain,

Rev. Jones.

To: Reverend Dildo Jones
From: Harry Kuntz
Date: 11/2/04

Reverend Jones,

You don't seem to understand. I do not have 3500.00 to send you. Our donations are allocated by the church elders and sent immediately upon receipt of the required Beastiality Photos. The 3500.00 for your church is, as I stated earlier, being held at the Myanus Sheriffs department. I must be honest with you, I have very little sympathy for you since this whole matter could have been avoided had you sent the required photos in a timely fashion. I am washing my hands of this entire affair. I am sending you contact information for a lawyer who belongs to our church. If you want the funds, you will need to do it with his help. I will not respond to any more of your begging.

Pastor Harry Kuntz

Holy Church of God's Sacred Beasts

Lawyer Contacts

Jack Mahogoff


[email protected]



Perry Mason


[email protected]



_____________________________________________________________________________



HE SENDS A LETTER TO ATTY JACK MAHOGOFF


To: Jack Mahogoff
From: Reverend Dildo Jones
Date: 11/2/04
Dear Mr Jack,

Please we are in need. I want you to get the 3500 for Myans Sheriffs department and send it to the Western Union Informtion below.
I want you to send it through my Secretary thus:

JUSTINE UKPONG
PASSPORT NO: A0571891
Destination: Nigeria
Text Question: What is your favourite food? EBA / EGUSI SOUP
Please send WESTERN UNION CONTROL NUMBER to my Email boxw. Father Kuntz says you can help.

Remain Blessed

Reverend Jones


To: Reverend Dildo Jones
From: Jack Mahogoff
Date: 11/3/04
Reverend Jones,

Thank you for your rambling message. It's a good thing you mentioned Pastor Kuntz - I was able to call him and get an explanation. Let's get some things straight. My name is Jack Mahogoff, so if you write to me, it's Mr. Mahogoff, NOT Mr. Jack. Pastor Kuntz indicates you want me to act as your legal representative in the matter of some funds being held by the Myanus Sheriffs Department. I will be glad to do this, I am enclosing a representation agreement, please sign it and return it with a 200.00 retainer to the address below and I will retrieve your funds.

Looking forward to hearing from you.

Jack Mahogoff Esq.


To: Jack Mahogoff
From: Reverend Dildo Jones
Date: 11/3/04

Mr Mahogoff,

Please you do not understand the hardship and needy. I do not have 200.00 please deduct your fee from 3500.00 and only send me 3300.00 for the children in my care. I ask you as a christian to help.

Jones



To: Reverend Dildo Jones
From: Jack Mahogoff
Date: 11/3/04

Reverend Jones,

Do you have any idea how the legal system works in this country? You can invoke all the Christian Doctrine you would like, I still will do NOTHING for you without a retainer. You want to know why? Because I'm a lawyer, and for me, cash is king. I do not care about your orphans, I do not care about your church, I only care about getting paid.
I will do this for you. Since I served as an altar boy for Father Mybalsak, and he taught me about the male anatomy, out of respect for him, I will require only a 50 dollar retainer. I will deduct remaining costs from the 3500.00, once it's recovered. Please send the 50 along with the signed representation agreement. This is my final offer.

Sincerely,

Jack Mahogoff Esq.



SIX DAYS LATER, I GET A PACKAGE CONTAINING THIS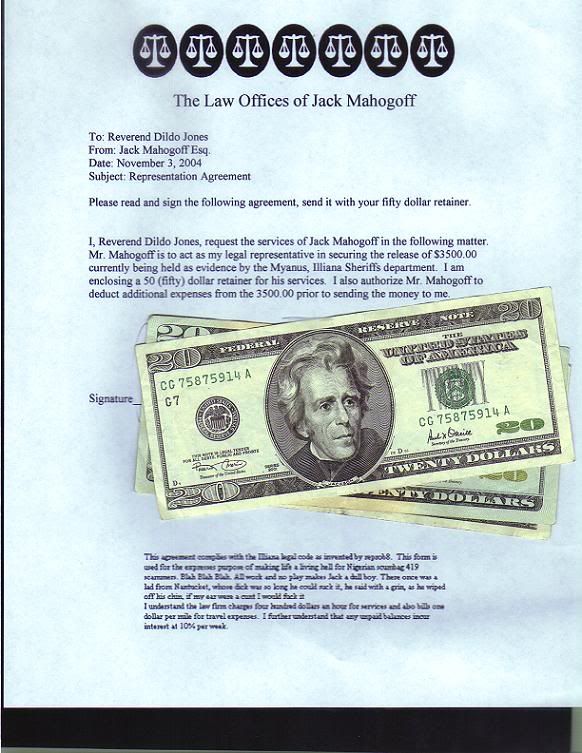 He should have read the small print!





This agreement complies with the Illiana legal code as invented by reprob8. This form is
used for the expressed purpose of making life a living hell for Nigerian scumbag 419
scammers. Blah Blah Blah. All work and no play makes Jack a dull boy. There once was a
lad from Nantucket, whose dick was so long he could suck it, he said with a grin, as he wiped
off his chin, if my ear were a *DELETED* I would fuck it.
I understand the law firm charges four hundred dollars an hour for services and also bills one
dollar per mile for travel expenses. I further understand that any unpaid balances incur
interest at 10% per week.








AS ALL LAWYERS DO, I SENT HIM THE FINAL BILL




To: Reverend Dildo Jones
From: Jack Mahogoff
Date: 11/10/04

Reverend Jones,

Please see attached letter.

Thank You.

Jack Mahogoff Esq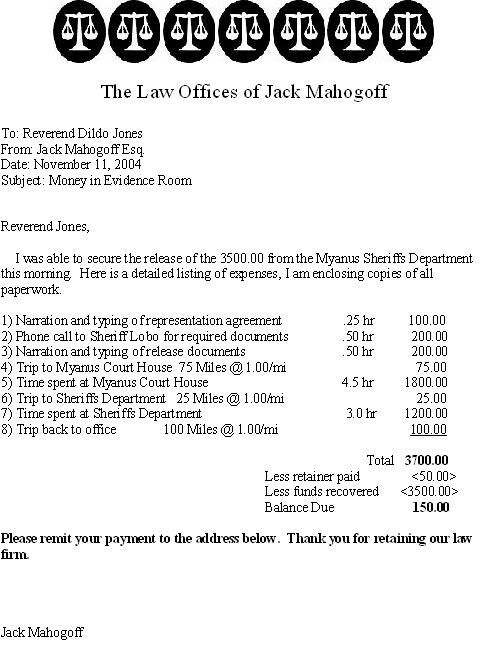 To: Jack Mahogoff
From: Reverend Dildo Jones
Date: 11/10/04

Mr. Mahogoff,

Why do you play like clown for me? I paid 50 like you asked now please send 3500 like you promised. Please we are in need from hardship and starvation. I have done nothing to be treated like this. You must send the money.

Rev Joness



I DECIDE TO END THIS BAIT – I'M TIRED OF THIS GUY
To: Reverend Dildo Jones
From: Jack Mahogoff
Date: 11/10/04
Dear Reverend Jones,

I thought I would explain why there is no money -- it's because there was never any money. There is no church, there is no Father Mybalsak, there is no Father Kuntz, and there is no Lawyer Mahogoff. I knew you were a scumbag 419 scammer the day you answered an email addressed to Dildo Jones. Do you know what a dildo is? It's a fake rubber penis. I think it's appropriate that you changed to Dildo since the women you've slept with, including your mother, probably wish you carried a dildo to make up for that twig sized penis between your legs. Why did I do this? Because you and all of your 419 scamming brothers make me sick. I just wanted you to waste as much time and money as possible. I really wanted this scam to last longer but you're so incredibly stupid, I just got bored. Thanks for the 50, I donated it to a local animal shelter. I thought it was the right thing to do since I consider a dog to be a higher life form than you. I hope some day you get off your lazy ass and look for a real job. Thanks for playing!! Cheers !!




WAITING FOR A REPLY





I know I could have done better with a pliable lad like this, but I was so interesred in the A N U S thread, I did not give this the attention it deserved