Via Caltha
Wannabe Baiter



Joined: 13 Nov 2004
Posts: 92
Location: England

| | |
| --- | --- |
| Posted: Tue May 24, 2005 8:12 pm | |
---
So I found this scammer's address over in Main having been told that she gives good death threats.


It started with a basic "tell me more" email, to which I received this reply which some of you may already have seen on an earlier thread:



Quote:
From: Mugu Tonnie
To: Jarvis Cocker (

I used the address from the Mugu 2000 musical bait. I figured there was life in the musical baiting modality yet, but I'm playing relatively straight for the time being.

)

Dear Jarvis ,
Thanks for your interest in this business which I can only assure you will benefit you if you take it serious. I told you that in due course, I will let you know why I am reposing this kind of trust on you, a person that I have not met before.It would have been foolhardy for me to do so without the direction of God. I dont think that you will be involved financially because I brought out some money for expenses from this suitcase before I deposited it. I am a very devoute christian who believe in God and his prophesies. Let me now unfold the secret of my heart to you.The night before I sent you that first mail, an angel of God appeared to me in my dream and advised me to stop worrying myself over how I can get this money out from Africa because God has already chosen someone to help me do so.The angel then wrote your names and contact address for me on a black board and asked me to contact you.She told me that if you respond to thiat m ail, you will assist me. I want you to know that trust is the soul of every business.In the past, we have trusted people even those we know and believe will not disapoint us but atlast, we were disapointed.But anybody chosen by God will never disapoint us.I have given you my trust because God asked me to do so.Man can lie but God never lies. I would have loved you to come down here to accompany me to the deposit company where this money is deposited and see this money after which, we shall open an account in one of the international banks here, then lodge in the money and transfer it to your account in your country.But if you can not come down here for whatever reason, the director of the deposit company and my lawyer will arrange to bring you this suitcase just the same way it was brought from my country to cotonou under their high powered special diplomatic delivery system which forbides inspection at seaports and airports. How old are you please and what is your profession? Are yo u married or single please? Send me your pic or your International passport.I have attached my passport here for you.Please send yours.This will enable us to know ourselves better.Please keep this trust and confidence reposed in you.Looking forward to reading from you at your earliest convinience. God bless you real good.

Mugu Tonnie.



The image of the angel writing my baiting address on a blackboard cracks me up every time. If anyone here has played the old PC game Battlemage, the long rambling story with no paragraph breaks puts me in mind of its expository text boxes.

Here's the passport she sent me, in the first email no less:



CLICK ME



Edited for image size

--- ScamTech



Quote:
Dear Mrs Mugu Tonnie,

Thank you for your prompt reply. I am Jarvis Cocker, the Investment Manager of Green's Greenery, part of the Friedel-Crafts UK family. We are a medium-sized company dealing with the supply of speciality plant products. I am 42 this year, and planning to move on soon - I hope this business will prove to be a fitting end to my years working here and benefit both yourself and the company.

Please find photo attached as requested.

Jarvis Cocker



I'm not sending a passport, but simply a picture I turned up with a quick Google image search. The nature of the "speciality plant products" will become clear shortly.



Quote:
Dear Jarvis,
Thanks once more for your interest in this transaction which I have earlier told you will benefit you if you take it serious.Coild you please confirm to me if you will come down here or will want the deposit company and my lawyer to arrange and bring you this suitcase after which I will join you.Thanks for your pic sent.God be with you.
Mugu Tonnie.





Quote:
I would be very grateful if you would arrange delivery of the suitcase here. I am willing to pay any necessary shipping and administrative costs incurred.

Jarvis Cocker



Chase the carrot...



Quote:
Dear Jarvis,
Thanks once more for your interest in this business which I can only assure you will benefit you.
O.K .my lawyer and the director of the deposit company will soon contact you on how this suitcase will be brought to you.I have told them that you are my partner.But please be careful not to let them know the real content.Remember that I deposited it as my family treasure and that is what they know and believe it to contain.
God be with you.
Mugu Tonnie.



Things start getting interesting. Enter Agatha Dagba, solicitor, and Kwame Green, security manager.



Quote:
Mr Jarvis Cocker,
We are pleased to inform you that our client mrs Mugu Tonnie have instructed us to contact you in respect of her suitcase of family treasure which the Deposit company is about to bring to you in your country as her oversea partner. As counsel and legal adviser to mrs Mugu, we have advised her on the need to secure an agreement with you and the Deposit company over this consignment.
For this reason, your full particulars such as tel/Fax numbers and your designated address where you will like the suitcase to be delivered is now sought from you to effect this agreement.
Best regards,
Mrs Agatha Dagba ( ESQ )



(women don't have Esquire after their names, dingbat
)



Quote:
UNIVERSAL TRUST DEPOSIT AND DELIVERY COMPANY
(Cargo and Courrier Service Handlers)
Boulevard de La Republic, Bp 555, Cotonou.
Tel/Fax: 00229050415,Republic of Benin.
Date; May 18, 2005

DELIVERY OF A CONSIGNMENT TO YOU.
Attention Mr Jarvis Cocker,
Our client mrs Mugu Tonnie has asked us to deliver her suitcase of family treasure which has been under our custody since last year to you as her beneficiary. By this mail, your full names and contact address is needed to enable us effect the certificate of Beneficiary in your name.
Be informed that we deliver consignments to beneficiaries 24 hours after our delivery fee has been paid and this delivery is done under a high - powered Diplomatic Delivery system which absolves the suitcase from inspection at any airport or seaport. We deliver at doorsteps just like D H L .

Best Regards,
Kwame Green ( Director, foreign services)



I lost my reply informing her that I'd contacted them, but here's my reply to the solicitor:



Quote:
The address of the Sheffield branch office, handling this transaction, is:

Jarvis Cocker
Investment Manager
Green's Greenery
914 Macs Lane

try reading that backwards


Sheffield

where else?


United Kingdom

I can be contacted on +44-114-496-0419.

Thank you.



with much the same info going to the security company guy. The number is of course a reserved drama number, the UK equivalent of 555 numbers in America. I left it a while before sending these, and was chided:



Quote:
Dear Jarvis,
O.K. Thanks for this effort but you should try to speedy up this delivery.A situation where you reply mails three days after does not argur well in a business which I told you require urgent attention.God bless.
Mugu Tonnie.



I received the agreement: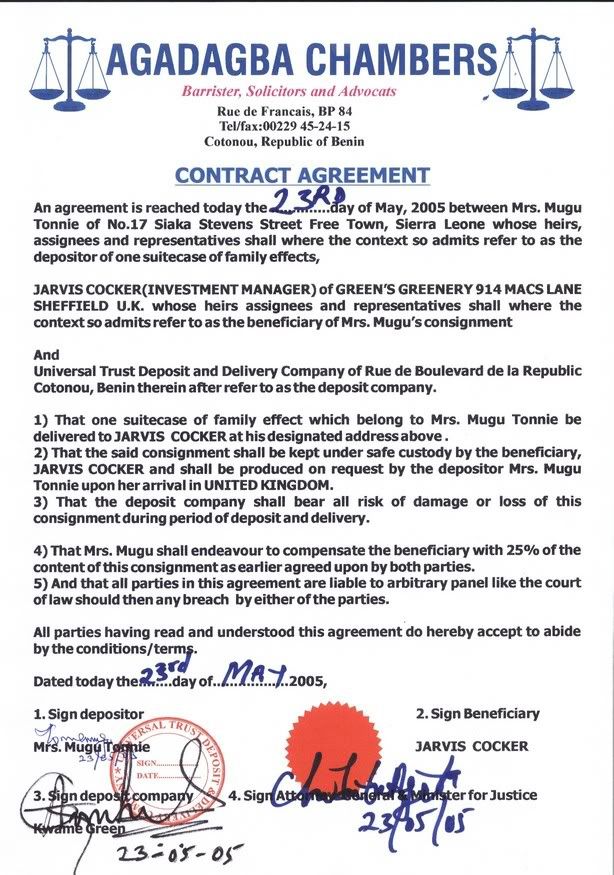 (I'm sure I won't be the only one who read that as "Agadoo" at first glance
)

...and a certificate of deposit, including demurrage (wasn't he the guy who made Nanny Ogg's everything-proof pointy hat?)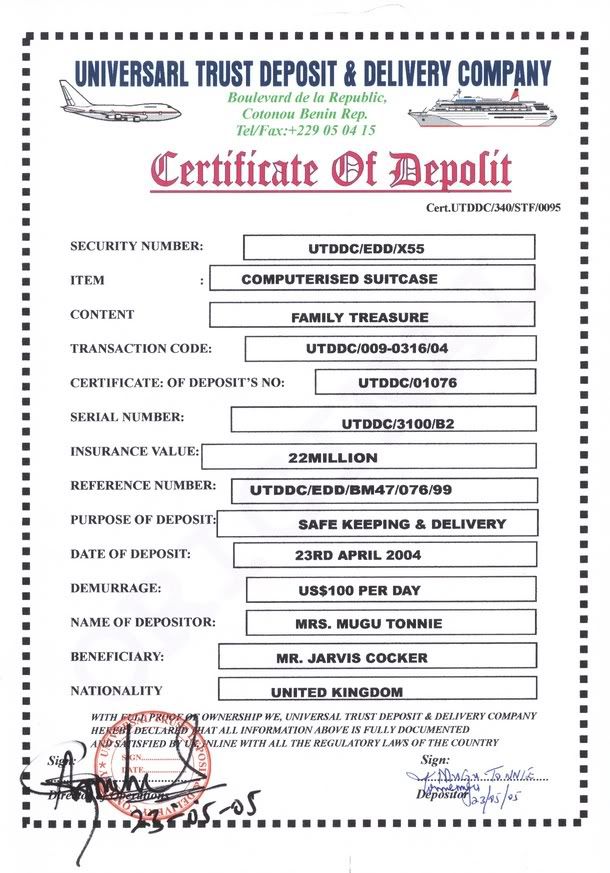 So time to go for it. Now I've got them to mess around with MS Paint for a while, they (or rather she) won't be happy when all is revealed. In keeping with the musical bait tradition, the next message contains the titles of all the Pulp albums to date (finding them all is left as an exercise for the reader
) as well as making the nature of the "greenery" all too clear...



Quote:
Many apologies for the tardiness of my earlier reply. I was at a conference for the intro of a new product range. We have a new range of his-n-hers bong sets by popular demand. I also had the opportunity to sample some of our new consumable merchandise. Not to blow my own trumpet but the new batches are truly a different class. It freaks me out how good it is - I mean, this is hardcore in two hits. We love life at Green's Greenery.

Anyway, there will be no future separations without my informing you beforehand. Sorry once again for the miscommunication.

I will sign the agreement and return it to your lawyer as soon as is possible, as well as making arrangements for payment.

Jarvis Cocker



And if this didn't reveal the true nature of the greenery then this attachment should: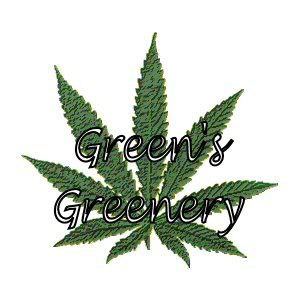 but miraculously she is completely unfazed by the fact that her maga turned out to be in the wacky baccy business and indeed seems positively enthusiastic:



Quote:
Dear Jarvis,
Thanks once more for your interest and readiness to assist.Please endeavour to endorse the agreement and return it to my lawyer between now and thursday because she will be filing a copy at the high court here by friday latest .
The remaining delivery fee which you have promised to complete should also be paid latest by tomorrow, wednesday because Mr Green will be sending the suitcase to the cargo section of Air France at the cotonou International airport by thursday, 24 hours before departure for check in.


Thanks for your product send.It is lovely.

God be with you.
Mugu Tonnie.



To be continued!

_________________
"I have reported you to the member of your oasis mission in london through post and hoping that by tuesday the letter will get to the as well according to the currier service."
-- Rev Father Peter Richards