Joker
Master of Master Baiters



Joined: 26 Jul 2012
Posts: 536
Location: Elizabeth Arkham Asylum

| | |
| --- | --- |
| Posted: Fri Nov 23, 2012 2:55 am | |
---
Malcolm X wrote:
To me, the thing that is worse than death is betrayal. You see, I could conceive death, but I could not conceive betrayal.



The saga continues with Tayo selling out more of his friends!



Quote:
OmoTayo Busayo Solaja
hello brother
how r u today sir?
sir am hoping u r doing well
I send u andy okeke
am waiting for u to remove my thread like u promise

Joe Kerr
Yeah, I got Andy, it a good start.

OmoTayo Busayo Solaja
wat u mean good start?
no dulling bro u said u will delete my thread

Joe Kerr
Look, I know you want the thread removed, but I have to work within certain things.

OmoTayo Busayo Solaja
am holding u to ur word as a man of God

Joe Kerr
You know nothing comes for free. This is a BIG fucking favor you are asking from me.

OmoTayo Busayo Solaja
but bro I give u andy and my thread still there. sabi?
we make deal

Joe Kerr
Look dude, I have to make things work for me too.
Profit is the key.

OmoTayo Busayo Solaja
k bro u break ur word I get dis na

Joe Kerr
This Andy was like a down payment to me and the bosses at Eater.
Look fucker, I am working on it, but have to work with the system.
I did swear to God to you. Some times God wants more. Remember Job? Lost his home and wealth, then even had to lose his family to prove his faith.

OmoTayo Busayo Solaja
k. So wetin I do to make dis fast 4r u
amen brother

Joe Kerr
I am on your side man. Don't fucking forget it.

OmoTayo Busayo Solaja
am trustin u with my life

Joe Kerr
What I have to do is furnish at least 2 more good names to get what you and I want.

OmoTayo Busayo Solaja
God gunna judge men by there lifes and promises
k bro I can get u one tonight

Joe Kerr
No shit it is your life. That thread could be there forever if this doesn't happen. It could even cost me dearly.

OmoTayo Busayo Solaja
but plz ask them to move faster
am gunna send u information on Nana Osei

Joe Kerr
Look, you got to tell Andy to blast his client.

OmoTayo Busayo Solaja
k, wat client?

Joe Kerr
Shit, do I have to do it all? /*redacted*/ for fucks sake.

OmoTayo Busayo Solaja
k bro relax

Joe Kerr
No just saying 'it is done', I want a screen shot, so I have the proof.

OmoTayo Busayo Solaja
OK

Joe Kerr
Really, man, I can walk is that what you want?

OmoTayo Busayo Solaja
AM DOING DIS NOW

Joe Kerr
I gotta have results.

OmoTayo Busayo Solaja
TELL UR PEOPLE TO HURRY WITH MY PAGE
CONTROL AM MAN
I GET U UR STUFF U GET ME MINE
WE MAKE DEAL

Joe Kerr
Okay, remember God blesses those who do what they say they will do.
That is more like it.

OmoTayo Busayo Solaja
AMEN BROTHER
AM GOING TO WORK

Joe Kerr
I'll be waiting for the results!

OmoTayo Busayo Solaja
K BROTHER

Joe Kerr
R-E-S-U-L-T-S
Lets get this done.

OmoTayo Busayo Solaja
amen
good bye 4r now

Joe Kerr
Ok bye.



Screen shots of this lovely conversation can be seen here:

#1, #2, #3, #4, #5, #6, #7, #8, & #9

So who is Nana Deff Osei? He is a hacker/financial fraud type of criminal that Tayo has linked up with in Accra. Let us meet the man: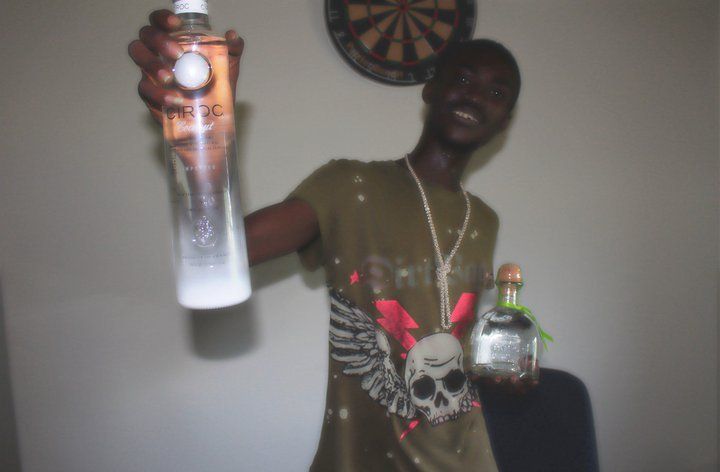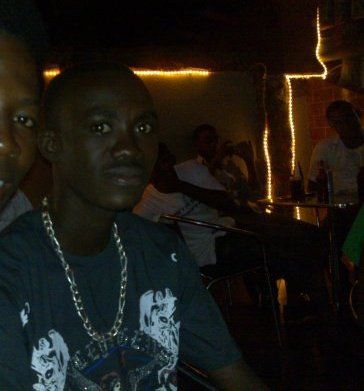 As for proof of fraud, read the panes from left to right and then move down to the next pane set: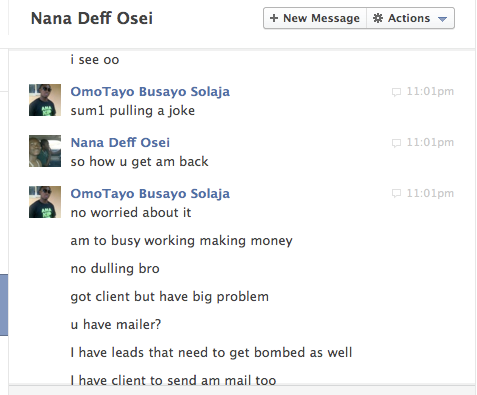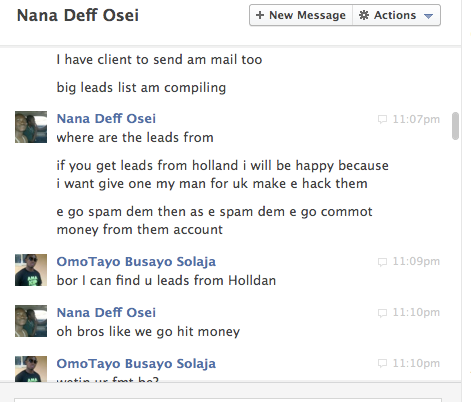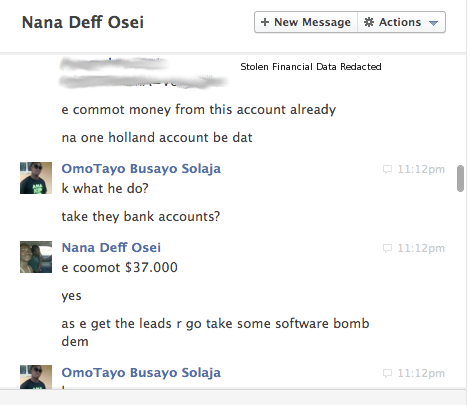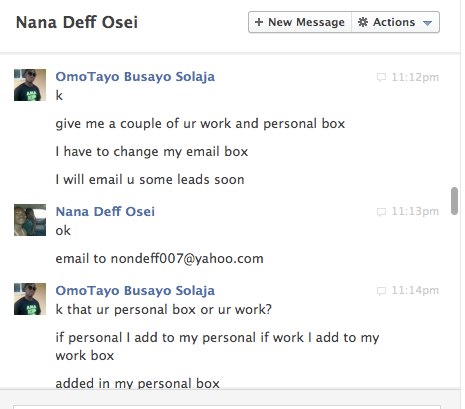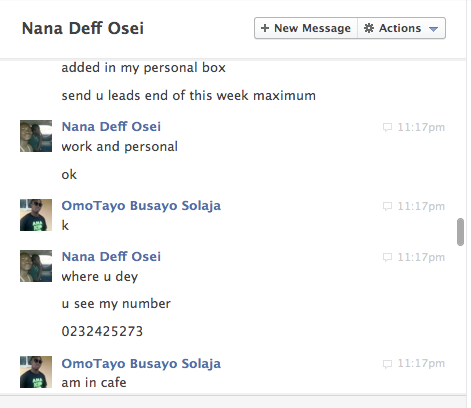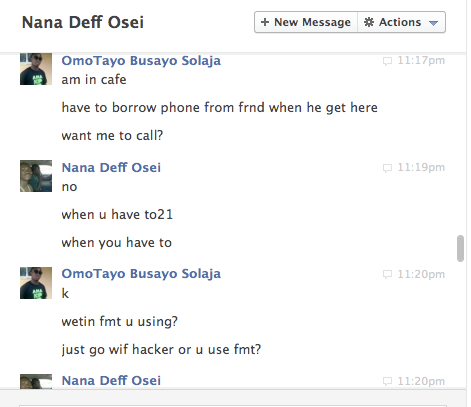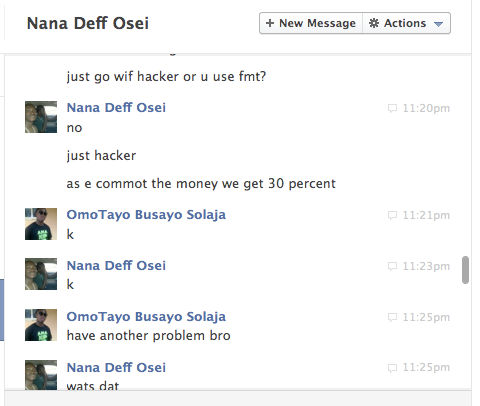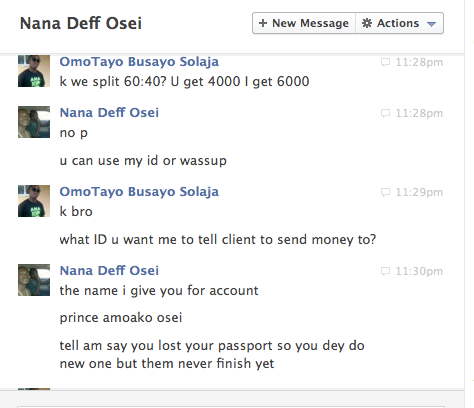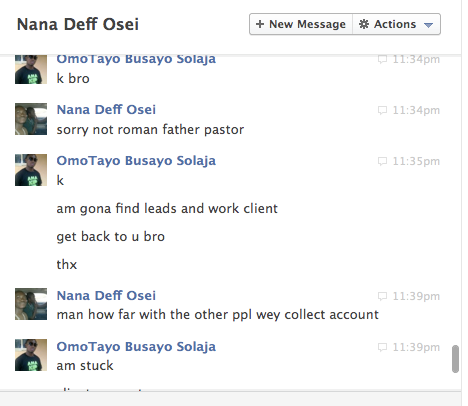 So what do we know about Nana so far? He is into major financial fraud and crimes up to and including utilizing hackers and hacking tools, his phone number is 0232425273 / +233232425273, and his personal email address is nondeff007@yahoo.com. We can also assume that Nana Deff Osei believes he has the need to own some weaponry: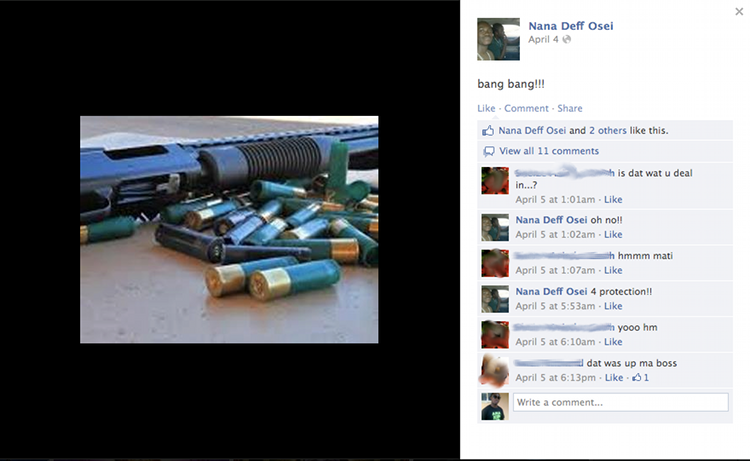 Petty criminals here I guess. I am not sure about the legality of owning that in Ghana but again Tayo..... thank you for turning this information in to me. I am sure we will take that thread of yours down soon.

_________________


كافر

: Green
's and
, well done
and a burnt scam.


~ Tayo (Lagos to Accra) ft. El Capitan Borracho - 'i am broke, i am hungry and dirty' / 'GO AND DIE FOR YOUR COUNTRY, YOU ALONE AND INVITE NO ONE'